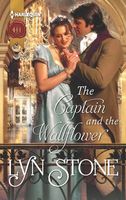 Badly scarred captain Caine Morleigh must marry to inherit. Who better than the homeliest young woman left over at the end of the London season? After all, she will require little attention to keep her happy....
Lady Grace Renfair leaps at the only chance to escape her emotionally abusive uncle and accepts Caine's proposal. Soon she blooms with confidence and beauty, causing her husband's forbidding exterior to crumble.
If she could only reach beyond his scars to the gentleman beneath....
Very good book. I really liked both Caine and Grace. Caine needed to marry in order to inherit. Because of his recent injury and scarring he decided to pick a woman who might be less popular and therefore willing to settle for him. When Caine saw Grace in the ballroom he was immediately drawn to her and offered for her on the spot. Grace had been kept a virtual prisoner by her uncle and was worried about losing her life at his hands. She couldn't understand why Caine's ex-fiancee had been so cruel and saw nothing wrong with him. She was immediately drawn to him also. There were several attempts made on Grace and Caine's lives and Caine sent Grace to his country estate to keep her safe. I loved seeing Grace's independence and the way she was able to take control of situations. I loved the way that she saw what a good man Caine was and wanted to break through his reserve with her. Caine didn't want to actually care about Grace, but couldn't resist her. I loved his protective feelings toward Grace and how he wanted what was best for her - even though he didn't listen at first to the fact she wanted him. I also loved the way that Grace could see what he was doing and didn't let him get away with it. I enjoyed the culmination of the plot against Grace and how she took part in her own rescue. I liked Caine's friend Trent, and I hope that he gets his own story.