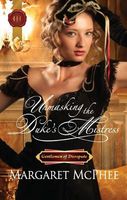 Series: Gentlemen of Disrepute (Book 1)
With trembling hands Arabella dons the mask of Miss Noir for her first night at Mrs. Silver's House of Pleasures. Thinking of her young son, she prepares to smile prettily at the next gentleman who enters....
Dominic Furneaux, Duke of Arlesford, is stunned to see that the woman who shattered his heart has fallen so low. He offers her a way out -- by making her his mistress!
The temptation to reacquaint herself with Dominic's body is hard for Arabella to resist, but Dominic needs only to look into the Furneaux-blue eyes of her son to uncover Arabella's deepest secret...
Very good book. I really liked Arabella. She had done everything she could to try to support her mother and son, but had run out of options. When her worst nightmare happens and it is Dominic who buys her "favors" she is terrified that he will learn her secret. Dominic's reaction to seeing the woman who broke his heart is to make her his mistress. However, he finds that, even believing the worst of her, he cannot treat her badly. Each finds that their feelings for each other have not died. They also find out that they had been torn apart years before by the lies and deceptions of others. When he finds out about her son, he proposes marriage. But when Arabella is threatened with exposure, and harm to her son and Dominic, she breaks off their engagement. Dominic is furious and hurt at first, but then realizes that something was wrong. I really enjoyed seeing the way that Dominic worked to make things right, and loved the way he dealt with the blackmailer. The conclusion was fantastic. I am looking forward to reading Hunter's story.