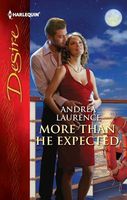 The Exception to the Rule
Playboy Alex Stanton likes his relationships short and without strings. But his fiery fling with Gwen Wright left him craving more. So when a holiday weekend getaway provides an opportunity for another taste of the tantalizing woman, he grabs it. Only, things have changed since their last encounter....
Besides being noticeably pregnant, Gwen insists she's sworn off men. As if the challenge weren't tempting enough, Gwen's enticing new curves have made the sexy spitfire even more appealing. But how can the footloose bachelor hang on to his heart when he can't stop longing for the soon-to-be mama?
Good book. Alex and Gwen enjoyed their two week fling and moved on. Neither one was interested in a relationship. Eight months later they met again at a friend's house. Alex wanted to pick up where they had left off, as he hadn't been able to forget her. He was surprised to find out that she was pregnant, but she assured him the baby wasn't his. She really wasn't interested in continuing, as she was trying to move on with her life. For both of them, the attraction was too strong and they gave in. Alex was commitment shy because of his past. His parents don't have a good marriage and it has caused him to believe that love doesn't really exist. Gwen wants to believe, but her mother is always on the hunt for a man and it has caused Gwen to be very wary of relationships. I loved seeing Alex and Gwen together and see their interactions. I thought it was terrific the way that Alex tried to take care of Gwen and do things for her, not realizing that he was doing it out of love, not lust. Alex's trip to New Orleans to meet with his project manager was great, and I loved her reactions to his problems.