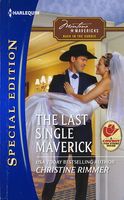 Series: Montana Mavericks: Back in the Saddle (Book 1)
Look out ladies: there's another Traub bachelor in town! Jason "Jace" Traub is every bit as gorgeous as his sexy twin brother, but rumor has it he is even more marriage-shy. There's not a woman alive who could make this restless rancher settle down….
Yet insiders whisper that Jace has been talking wedding plans with Jocelyn Bennings, the chestnut-haired beauty who ran out on her own wedding just days ago! Could the confirmed bachelor really be hooking up with heartbroken, headstrong Joss? Stay tuned, loyal readers, to find out if their marriage of convenience runs amuck—or if lasting passion will finally rope in the last single maverick!
Very good book. Jace was in Montana for a family reunion. He was also trying to figure out a new direction for his life. He realized he wasn't happy working for the family oil business any more, but he didn't know what he did want to do. The problem is, everyone in his family is trying to tell him to come back to the business and not listening to him. He leaves the family get-together for a little while and meets Joss. She is there having an "unhoneymoon". She had found her groom and her bridesmaid together at the church on her wedding day and had called off the wedding then and there. Now she is trying to get herself back together. She and Jace start talking and decide to hang out together as friends. She'll come to some things with him as protection from his family's interference and they'll just have some fun. I loved their idea of just being friends, even though I knew that it wouldn't stay that way. They spent the week doing things together, getting to know each other, and just having fun. I could see them get closer, and that they were developing feelings for each other. By the end of the week there was some serious attraction going on and they decided to act on it that last night before Joss was due to go home. The next day they decided that, since neither one believed in love any more, but they truly liked each other, they would get married and buy The Hitching Post bar and run it together. They could also have the family they wanted without the messy emotions. Needless to say, that didn't last long. Joss soon realized that she had fallen in love with Jace, and told him so. He panicked, but she said it didn't matter (yeah, right). The day of the wedding there was a big scene when her ex-fiance showed up, and Jace realized that he'd been an idiot. I really loved all the scenes of Joss and Jace getting to know each other, from the horseback riding to just walking around the town. It made a nice change from the bed first, then getting to know each other of some romances.