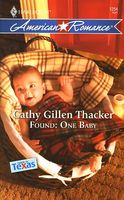 Series: Made in Texas (Book 4)
It's no surprise to see a package on Thad Garner's porch. Women are always leaving tempting offerings for the sexy E.R. doctor--and his reputation with the ladies is what makes Michelle Anderson keep her distance. But when Michelle hears a baby's cry, she realizes this is no ordinary delivery....
Thad opens his front door to find his gorgeous neighbor cradling an infant in her arms. Michelle is obviously instantly smitten with the mysterious baby. It seems as if the coolly professional attorney is also a natural mom.
When Thad finds out the baby is a relation, he sets out to adopt little William immediately...and who better to help than Michelle? But how does Thad tell her he wants her not just as a lawyer--but as a wife and mother?
Good book. This was a fun baby on the doorstep story. Michelle found the baby on Thad's porch, and is immediately taken with him. She is also attracted to Thad, but has no intention of getting involved with someone who so obviously can't commit to a relationship. Thad wants to settle down and have a family, but can't see spending a lot of time on a woman if it is obvious pretty quickly that she's not the right one. From the moment Michelle appears on his porch, he is attracted to her. When she also bonds with the baby, they decide to work together to take care of him, then try for a joint adoption. Michelle is cautious about getting emotionally involved since she'd had a bad experience before. Thad really likes their relationship and where it seems to be going, but tends to rush things with Michelle. I loved seeing Thad take to the baby and how determined he was to be a great father. I also loved seeing Michelle's love for the baby, and how he made her life so much better. I thought their co-parenting plan was really cool and the way they made it work. It had a great happy ending and I loved the epilogue.