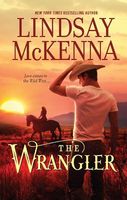 Series: Jackson Hole WY (Book 5)
Can a city boy make good in the Wild West?
After Wall Street collapses, investment banker Griff McPherson trades in his suits and ties for Stetsons and cowboy boots. He returns to the Wyoming ranch he co-owns with his brother, but it's not exactly a happy homecoming. So to prove to everyone, including himself, that he belongs back in Jackson Hole, he takes a post as a wrangler on another ranch.
Air Force lieutenant Val Hunter has just returned to the Bar H ranch to help her ailing grandmother run the property. While it is full of unhappy memories, Val is determined to do right by her home. Her new hire is easy on the eyes and a tough wrangler to boot, yet her instincts make it hard for her to trust him. When a nefarious neighbor endangers her land, Val is forced to accept Griff's help-but will she finally be able to open her heart?
Loved the book. Griff has come back to Jackson Hole after losing everything in the Wall Street crash. Relations are strained with his brother, so he takes a job as a wrangler on the Bar H, working for Val and her grandmother. He has a lot to prove, to himself and others. Val is hesitant at first, but they take him on anyway. Val has come back to the ranch to help her grandmother run it. Val's memories of the ranch aren't good ones, as her father was physically and emotionally abusive. This has left her with a distrust of men. Both of them felt an immediate attraction, but Val's issues have left her unwilling to pursue it. Griff senses the wariness, and is very good at being patient. He sees the attraction in her eyes, but knows he must tread carefully. There is also trouble brewing. A neighboring rancher wants the Bar H land and is willing to do anything to get it. I really liked Griff. He's not the usual alpha male character. I liked the way that he admitted to his mistakes from when he was in New York and his willingness to apologize to his brother and try to make things right. I liked the way that he was protective of Val while accepting her independence and the need to move slowly with their relationship. I liked Val also. She had an inner strength that she hadn't realized she had until she came home. She knew the issues she had and that they needed to be overcome. I liked the way that she took the time to get to know Griff and realize that he was different than most of the men she knew. I liked the suspense as they tried to get the goods on the head drug guy. I can see that things are closing in on him and am looking forward to the next book. I also really liked Val's grandmother. She was quite a character and I hope to see her again.