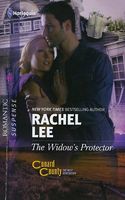 Series: Conard County: The Next Generation (Book 12)
"In five minutes, you'll be dead."
The pregnant widow and her stern words saved Ryder Kelstrom from a tornado. The least he could do was help the woman rebuild after the deadly storm. It felt good working with his hands again, forgetting about all he'd lost...and maybe finding the will to love again.
Marti Chastain had nothing left except the baby she carried. But she had a wealth of compassion for Ryder's torment and guilt. As these two lost souls found love and redemption in each other's arms, a secret enemy stalked Ryder. And killing Ryder's new woman would make revenge complete.
Very good book. It started off with some good intensity, with Marti stopping Ryder and taking him home with her to get away from a huge tornado. When the danger had passed and he saw the damage, he decided to stay and make the repairs for her. He had owned a construction company, and knew what needed to be done. It also gave him a chance to work with his hands while he tried to deal with the loss of his wife. Marti was also dealing with loss. Her husband had died a few months earlier, leaving her pregnant and alone. She didn't really miss him, as he had been emotionally abusive, but it still left her with issues to deal with. As Ryder worked on her house repairs, he also found himself taking care of her. He was very attracted to her, but his past left him feeling that he was responsible for his wife's death, so he was reluctant to act on the attraction. He also had made a promise to go see his wife's brother to tell him about what had been going on with her. Marti also felt the attraction, something strong that she had never felt before. Her husband's abuse had left her feeling that she was worthless, and the kindnesses that Ryder showed her made her care for him even more. I really loved the way that the two of them wanted to do things for each other, while not expecting anything for themselves. When Ryder's enemy showed up, I loved the way that Ryder did what he had to to protect Marti, and the way that Marti came to his rescue. A very satisfying ending to the story.