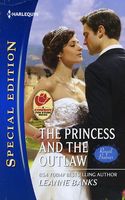 Series: Royal Babies (Book 1)
PRINCESS PIPPA'S FORBIDDEN ROMANCE
The shy, studious one among the royal Devereaux family of Chantaine, Pippa wasn't known for controversy. So her brief romance with Texas tycoon Nic Lafitte-of the detested-by-the-Devereaux Lafittes-had to end. Too bad Pippa couldn't get the darkly handsome, modern-day outlaw out of her mind!
Given their generations-long family feud, Nic was stunned when the sweet princess secretly defied the Devereaux clan to fulfill a Lafitte's dying wish. But if Nic gave in to his attraction to Pippa, he'd break her heart-again. He tried to resist her...until a night of passion led to a little Devereaux-Lafitte! Now the royal and the Texan have to somehow bring two worlds, and two families, together.
Good book. I really liked both Nic and Pippa. It was obvious that they were very attracted to each other. But because of the feud between the two families, Pippa called of their romance because of family loyalty. Nic refused to let her go, and got her to meet with him again. While she was walking on the beach one day, she met Nic's mother, who was dying of cancer, and whose greatest wish is to die on Chantaine. Because of the feud, Pippa goes behind her family's back and finds a house for them to stay in. She also sneaks away and visits on a regular basis. She also spends even more time with Nic and falls in love with him. I loved the way that she took such good care of Amelie and tried to make her life better. I also really liked Nic. He wasn't arrogant or obnoxious, and he obviously loved his mother. He also wanted to be with Pippa, but was sure that her family would keep them apart. I loved the section where "good girl" Pippa finally told off her brother and moved out to her own place. I'm looking forward to reading more in this series.