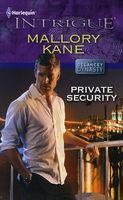 Series: Delancey Dynasty (Book 4)
Security specialist John Dawson thought his latest investigation into a building's collapse would be an open-and-shut case...until he met Juliana Caprese. Juliana's suspicions about what really happened that fateful day forced John to take a closer look at all the suspects. Starting with his notorious family. But before he could dig too deep, John found himself dodging bullets to protect the incredibly determined -- and strikingly beautiful -- Juliana. Obviously they were on the right path, but the idea of losing his rookie "partner" proved their relationship was becoming more personal than professional. Now, this unknown enemy didn't scare him half as much as how Juliana would react when she found out who he really was....
Good book. Dawson went to Juliana to see if they could work together to find out the truth behind the building collapse. She didn't trust him at first and was reluctant to share any of her information. When she kept getting attacked, he talked her into moving in with him for her protection. Juliana was pretty sure she knew who was responsible - Michael Delancey, the contractor. She just needed to connect all the pieces. John wasn't sure if Delancey was the true culprit, but he wanted the truth, no matter what it was. As they got more and more information, it looked like there was a lot more behind it. There was also the matter of the intense attraction they felt for each other. Juliana was finally beginning to fully trust Dawson when she found out his full name ... and then had to decide where to go from there. I liked Juliana and the way her mind worked. She did a fantastic job of researching backgrounds and following leads, finding connections that even he didn't know about. I really enjoyed the conclusion, especially when Dawson came to see Juliana at her dad's house.