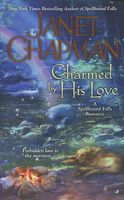 Series: Spellbound Falls (Book 2)
New York Times bestselling author Janet Chapman takes you back to the magical town of Spellbound Falls, where Duncan MacKeage is about to uncover great love with hidden dangers...
All Duncan MacKeage wants is to keep his crew building roads and bridges up the mountain to the fancy resort overlooking Spellbound Falls' new inland sea. He doesn't want anything to do with his own family magic or with the beautiful widow, Peg Thompson, and her tribe of little heathens. But when Duncan is tasked with keeping an eye on the widow Thompson, trouble starts.
Because of a family curse, Peg fears that giving in to her desires will mean killing off another lover. But Duncan - " the strong, handsome man buying her gravel" - is unbelievably tempting and determined to take care of her. Torn between her head and her heart, will Peg find the strength to break free of her black-widow curse? Or will pursuing their attraction put these lovers in harm's way?
Fantastic book. Peg is barely making ends meet while trying to support her 4 kids. Mac sends Duncan to Peg to buy gravel from her for the road he is building to the site of the new resort. After a less than stellar first meeting, Peg and Duncan come to an agreement. Duncan doesn't understand why he is attracted to Peg, but he is. Peg is attracted to him also, but refuses to do anything about it. She feels that getting involved with him would cause his death because of a curse the women in her family are under. Duncan is asked to keep an eye on Peg and her family while Mac and Olivia are away, and that is when things really start to happen. Things start happening on her property that put her and the children in danger. Duncan also finds out that whether he wants it or not, his family's magical legacy has come to him and he must embrace it to save Peg. I loved both Peg and Duncan. Peg is determined to stand on her own and doesn't want to risk depending on a man. But she finds it very easy to depend on Duncan, who doesn't take no for an answer. Duncan is a typical man of his family. He is very protective of women and children, and has no trouble simply taking action. I loved watching him try to deal with Peg, who he called "contrary", since she usually did the opposite of what he felt she should do. I also loved the way he interacted with Peg's children, and loved the children themselves. Thanks to his large family, he is experienced with kids and it's obvious he quickly comes to care for them. I loved the section when Duncan took Peg up the mountain with him to claim his magic. Just like with Olivia, I thought Peg took the idea pretty well. I really loved the last part, when Peg was kidnapped and Duncan came to her rescue. There were some really great moments there that showed her strength and the love and confidence she had in Duncan. Lots of laugh out loud moments.