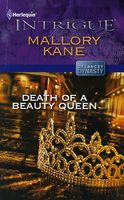 Series: Delancey Dynasty (Book 5)
The detective kept calling her by some other woman's name, but it meant nothing. Rose Boheme had no past, not until Detective Dixon Lloyd found it worth looking for.
He was a man so focused on her, he'd been searching for more than ten years....
His first homicide case was hers, and he could never shake it. He was haunted by her -- and when he found her, living, breathing, there remained only more questions and a bloody trail to follow. But was he doing her any favors seeking out those answers, so punctuated by danger? Or were they killing her second chance at life by inviting death back in?
Good book. Dixon had been obsessed by the one case he had never been able to solve. Whenever he had a chance he would go over the information they had -- all the pieces of a horrible crime, but no body. When another case led him to someone who claimed to have seen Rosemary Delancey alive, he had to investigate. He met with Rose Boheme and was convinced that she was Rosemary - but she had no memory of the events he was describing to her. What she did have were nightmares, which got worse after hearing what Dixon had to tell her. Dixon swore to keep her safe, and was trying to track down who had tried to murder her 12 years ago. He also found that he was very attracted to her, and was finding it difficult to stay objective. Rose was angry at first, when Dixon told her who she was. She didn't want to believe him,and felt that he was imagining any danger to her. When it became obvious that she really was in danger, she trusted him to help her. She was also very attracted to him, and finally gave in to it. I did like Dixon and his tenaciousness in finding Rose. The conclusion was very good, with the bad guy who I thought it might be.