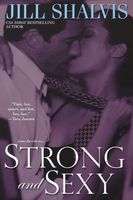 Series: Sky High Air (Book 2)
BLOWING IT ALL SKY HIGH
In a family of serious over-achievers, Shayne Mahoney has always been the laid-back, easy-going rebel. But running Sky High Air--a charter airline catering to the rich and famous--is a dream come true, in-flight specials included. Like kissing his client's beautiful, brainy daughter in a coat closet. But before Shayne can say "Fasten Your Seatbelts," Dani claims to witness a murder, gets stalked in her own apartment, and as added bonus, gets them both shot at by a mystery sniper. Normally Shayne would be running from the obviously crazy woman, and yet he finds himself trying to help her, leaving him to doubt his own sanity...
There's a reason Dani never attends her mother's high society parties. The fake people, the shallow conversation--and the fact that she doesn't fit in. She's a zoologist, not a starlet, and happy about it, even if she wishes men like ruggedly handsome Shayne Mahoney would spare her a second glance. Of course, dodging bullets isn't exactly what she'd call the perfect follow-up to their heated kiss, but Shayne makes it clear she can depend on him. All she has to do is hold on tight to his delicious hard body until the ride is over..
Very good book. Shayne first saw Dani at a party Sky High was giving for her mother. She was messy, klutzy and adorable according to Shayne, who had never before been attracted to anyone like her. I loved their first kiss in the closet, when they were both blown away by their reactions to each other. When Dani witnessed a murder, then the body disappeared, someone shot at her, then there was another disappearing body, she wasn't sure if she was going crazy or if someone really was out to get her. I loved the way that Shayne was insisting on watching out for her, even though he wasn't sure why. I also loved the way the heat between them really confused him. He's always been a once and done kind of guy with the women he dated, but he couldn't get enough of Dani. Meanwhile, Dani was sure that Shayne would get tired of her very quickly, since she's nothing like the girls he usually went out with. She kept trying to chase him away before she got too involved with him, but finally realized that she was a goner from the beginning. I really liked the way that Dani was able to read Shayne through the layers he showed to everyone else. I also loved the way that Noah and Brody gave him such a hard time when it became obvious he had fallen, but was trying to deny it. The climax with the stalker was fantastic, and really showed how much Shayne and Dani cared for each other. I am really looking forward to Brody and Maggie's story next.