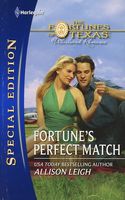 Series: Fortunes of Texas: Whirlwind Romance (Book 6)
It seemed as if all the Fortunes were finding love -- all of them except Emily. Pretty, poised and smart, the oldest Fortune daughter had given up on Mr. Right and was now looking for Baby Right.
And then she met a man.
No one would ever picture rough-around-the-edges Max Allen with a pampered princess like Emily. The tall, shaggy-haired airport manager had never caught a break in his life. After he'd lost baby Anthony, he vowed never to love another child. And now he'd fallen hard for a polished, sophisticated woman intent on having a baby. Was Max headed for another heartbreak? Or could the well-heeled Ms. Fortune be the one who finally made him whole?
Excellent conclusion to the series. Out of all the Atlanta Fortunes, Emily is the only one who hasn't yet found her true love. After surviving the tornado, she realized that she had been putting all her efforts into her work and neglecting her personal life. She hadn't found anyone she wanted to spend her life with, but she did want her chance at having a baby, so she decided to pursue that on her own. Then she met Max. I really liked Max a lot. He had a good head on his shoulders and was a hard worker, going after what he wanted. His biggest problem was being down on himself as far as being deserving of happiness. In spite of being attracted to her, he felt that Emily was way out of his league. Emily didn't agree, and did her best to let Max know she was interested. As they spent time together, working on public relations stuff for the flying school, they got to know each other and discovered what they did have in common. What was keeping them apart was the fact that Max had given up on marriage and kids for himself, and Emily hadn't told him about her plans. When she did, it caused a split that she thought she would never recover from. I loved Emily's determination, and the way she tried to see the positive in everything. I loved the way she left her dad's company, and the subsequent conversation with her mom. I loved the way things worked out in the end. I hope to see more stories about the Fortunes and maybe see if Max and Emily get the family she wants.