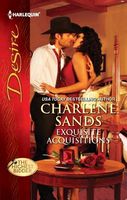 Series: The Highest Bidder (Book 2)
Sold to the Sexy Cowboy!
For Macy Tarlington, the only good part of seeing her legendary mother's possessions sold at auction is ogling Carter McCay, the tall Texan who buys the famous diamond ring. Even better is seeing him again when he rescues her from the paparazzi like a white knight in a Stetson.
Carter whisks her to safety at Wild River Ranch, hiding her identity by day and lusting after her by night. Yes, he's sworn off love. But with the Hollywood runaway starring in his every fantasy, Carter may find Macy too much temptation-even for a hard-hearted cowboy.
Good book. I liked both Macy and Carter. Macy had to sell her mother's things in order to settle her mom's debts and also settle a couple lawsuits against herself. I liked the way she stood up for herself in the actions that caused her to be sued. Carter was hurt by his girlfriend's refusal of his proposal and swore he'd never propose to another woman. He and Macy had noticed each other at the auction and felt an immediate attraction, but never expected to see each other again. When he saw Macy being hounded by the paparazzi, he stepped in and rescued her, then invited her to his ranch to get away. Macy immediately fell in love with the place, and soaked up the peace and quiet. Then she talked Carter into letting her restore a building on his property, which gave her a sense of purpose that she had been missing. I loved the way that Carter and Macy spent time together getting to know each other and sharing their lives and dreams. When they finally gave in to their passion there was a connection that was deeper than just the physical, even though neither wanted to admit it. When Macy reached the conclusion that Carter was never going to love her, she left and went home. It took Carter awhile, and a discussion with one of his employees/friends, before he realized that he loved Macy and wanted her in his life forever. I loved the story of the ring, and the conclusion of the story was great.