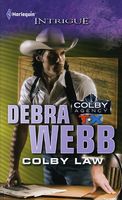 Series: Colby Agency: Texas (Book 1)
To solve the most heinous murder in Texas history, Colby investigator Lyle McCaleb has an unusual mission: find and protect the killer's long-lost daughter. The complication: she's tough, gorgeous rancher Sadie Gilmore -- Lyle's first and only love. And now the mysterious past she barely remembers is threatening her very existence.
Lyle regrets leaving Sadie broken-hearted seven years ago. And as he investigates and gets deeper into danger, he finds it almost impossible to maintain his professionalism around her. But another dilemma threatens their newly rekindled relationship. Can Lyle regain Sadie's trust while concealing the secret that may devastate her?
Excellent start to the new Colby series. It was obvious from the beginning that Lyle still loved Sadie. He knew that leaving her seven years earlier had been best for her, but he had never forgotten her. Now he was responsible for keeping her safe. Sadie was stunned to see him when he showed up at her ranch. She didn't want him there, as she had never really gotten over her broken heart, but it became obvious pretty quickly that she needed his help. I liked the way that she realized that she trusted him, and was willing to listen to reason when it was important. I also liked the way that Lyle helped Sadie with her relationship with her dad. The conclusion was satisfying for the book, but we obviously still have a ways to go for the conclusion of the main story.