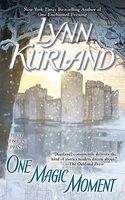 Series: de Piaget (Book 13)
There's no time like the present . . .
if you're running away from the past.
Tess Alexander has it all: family within reach, work she loves, and the chance to live in a perfectly restored medieval castle. But then a trip to the village brings her face-to-face with the new owner of the local garage, who looks a great deal like the man who married her sister . . . eight hundred years in the past. She's determined to remain objective about magic and destiny, yet she can't help but wonder about the mysterious, sword-wielding mechanic . . .
As far as John de Piaget is concerned, he has no past; it's safer that way. The last thing he needs is the nosey medieval studies scholar from the nearby castle dredging up ancient history -- his ancient history. But from the moment he lays eyes on Tess, John can't help but wonder how he ever took a decent breath without her . . . or how he's going to protect her from the treachery that threatens both their futures.
Loved the book. Tess is desperately missing her sister Pippa, who has gone off to the 13th century with her new husband. She tries to keep busy with her studies and the medieval events she puts on in her home at Sedgewick Castle. When she takes her car in to the local garage for repairs she is stunned to see the new owner - who looks so much like her new brother-in-law it's spooky. Meanwhile, John is trying to keep a low profile, and discourages any interest in his personal life. He finds he can't keep away from Tess, no matter how hard he tries. I loved the way she rapidly became certain that John is indeed Montgomery's brother. Since she knows about the time gates, but he doesn't know that she knows, there are some really fun parts in the book. She doesn't say anything to him about them, as she doesn't want to send him running (he has a habit of bolting when things get uncomfortable for him). The way he finds out is really great, and it's fun to see how Tess copes with those events. I love this series and the MacLeod series. I'm looking forward to the next one.