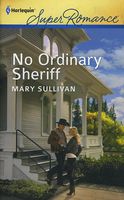 Series: Count on a Cop
Shannon Wilson is on the fast track to the top. A DEA agent from the big city, she's simply passing through Ordinary, Montana, to settle a score. And no small-town sheriff will derail her plans simply because he flashes a badge and a great smile...no matter how sexy he looks in that cowboy hat.
After all, Sheriff Cash Kavenagh is ready to settle into that white-picket-fence ideal. And Shannon isn't about to swap her fast-paced lifestyle for such an ordinary existence. Only problem is -- wrapped in those big masculine arms of his, Shannon can't seem to shake the feeling that life with Cash may just be the most extraordinary thing that's ever happened to her.
Good book. I really liked both Cash and Shannon. This book was a little different, with Cash and Shannon seeming to have reversed the usual roles. Shannon is a driven DEA agent. She has come to Ordinary to visit her sister, but also to find out where the meth came from that her brother overdosed on. She is very independent and doesn't allow herself to depend on anyone else, or to have someone need her, having had some bad experiences with weak and needy men. She finds herself drawn to Cash, who is strong himself, but has no interest in leaving his town behind. Cash is unusual himself, in that he makes no secret of the fact that he is looking for a relationship that would lead to marriage and family. He is sure that someone could be Shannon, but she is intent on furthering her career. I loved the caring and compassion that Cash shows everyone. He is a terrific role model for Austin, works great with the kids in the town, and helps out with Austin's mother. I loved the way that Austin helped Cash work out his feelings for Shannon, and the conclusion of the story was terrific.