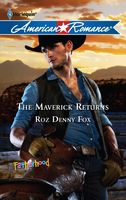 Series: Fatherhood
She once loved a cowboy...

When Tate Walker was killed in a barroom brawl, he left his widow with a small run-down ranch in south Texas and a daughter he falsely claimed wasn't his. Willow had accepted Tate's proposal because Cooper Drummond, the love of her life, refused to put aside his rodeo plans, despite her fears for his safety.


A year later, a cowboy appears out of nowhere, looking for work. He'd heard about a widow who could use some help. To Willow's shock, it's Cooper Drummond. And to Coop's shock, the widow is his onetime fiancee, now the mother of a little girl who's been diagnosed with a troubling condition.


She still loves that cowboy...


And that cowboy's never forgotten her. Can the two of them -- the three of them -- become a family? Can Coop love her daughter as his own?
Good book. Cooper stays to help Willow, in spite of their past. He finds he still has feelings for her, in spite of the way that she married a man he hated. I liked the realism in the way that he admitted his feelings, but also that he had real issues with what had happened between them. It wasn't an immediate forgive and forget. Willow was very independent - she'd had to be to survive being married to Tate, and take care of her autistic daughter. She didn't want to accept what she felt was charity from Cooper, but she was desperate for help. I loved the way that Cooper did what needed to be done and tried not to let the past interfere too much. I also loved the way he treated Willow's daughter Lilly, and how he was determined to learn everything he could to help her. I also liked the way that he was able to go back to his own ranch and make up with his brother.