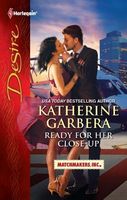 Series: Matchmakers Inc. (Book 1)
Sexy and Single…
And New Zealand billionaire Russell Holloway intends to stay that way, despite appearing on a matchmaking reality TV show. All he wants from his wholesome bachelorette is to whitewash his reputation so he can score the merger of a lifetime. Nothing more…except a few nights' pleasurable diversion.
New York professional Gail Little goes from reserved to stunning in time for their first date. But when she meets Russell, she knows the matchmaker made a big mistake. The camera may see their instant chemistry, but will Gail allow the perpetual playboy to transform her into his very own plaything…forever?
Very good book. Gail is tired of being alone and signed up with the matchmaking company for help finding someone special. Russell did the same in hopes of changing his image as a playboy. Gail couldn't believe she got matched with Russell. He is not anything like her idea of an ideal man. She also can't believe he would be interested in someone like her when he's been with some of the most beautiful women in the world. Russell quickly went from just using Gail to actually caring for her. The more he was with her, the more he wanted to make it permanent. Gail found that she really liked Russell, but had a hard time trusting that he was really changing. When part of his past started interfering with their future, Gail had to decide if he was worth the risk.