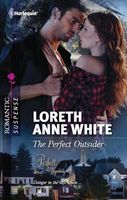 Series: Perfect, Wyoming (Book 5)
How can she leave him to die? June Farrow works for Cold Plains Search and Rescue as cover for her real mission—helping Devotees escape from Samuel Grayson's evil cult. The rugged man she finds in the woods has no memory, but evidence points to his being one of Grayson's murderous enforcers. Hardwired to save lives, June's only option is to take him to the safe house.
"Jesse" is the name on his belt buckle—that's about the only thing he knows. Now he's being held prisoner by a beautiful stranger. The fierce attraction between them threatens to awaken details from his past. But how can he even trust himself when he might destroy those he's trying to protect?
Very good book. When June finds Jesse injured in the woods she has no choice but to bring him back to the safe house to save his life. She locks him up to protect the inhabitants, but as she questions him she gets the feeling his amnesia is real and that he is no threat to them. Jesse feels he's there to do something concerning Samuel Grayson, but he can't remember what. The more time they spend together the more their attraction grows, and the more Jesse fears that he might cause more harm than good. I loved the way Jesse tried to hard to protect June. By the end of the book you could see how much they loved each other. I'm really looking forward to the last book in the series and seeing Samuel go down.