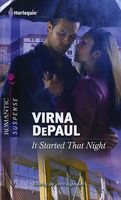 Her mother's killer is on death row…or so Lily thought. Now the case is being reopened—by Detective John Tyler, the man who broke her teenage heart the night of the murder. Only she can help him find the truth.
For Lily Cantrell, suffering amnesia and hiding a secret, John's investigation unleashes tormenting dreams, grave doubts and conflicting emotions about the crush she never got over. As much as she wants John, how can she forgive the man who treated her so cruelly? Or trust a man who might betray her?
What Lily does know is their reawakening passion is bound to be dangerous…but not nearly as dangerous as the madman bent on killing her.
Good book. The episode amnesia that Lily suffers from has put her in danger from the person that murdered her mother. The wrong man is in prison for it and it is John's job to investigate and find the truth. John loved Lily long ago and left her to protect her from himself. As more women are murdered in the same way as Lily's mother, John continues to search for the link. Lily is starting to have flashes of memory, and doesn't know who she can trust - except she's pretty sure she can trust John.