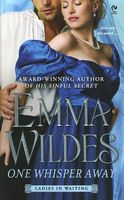 Series: Ladies in Waiting (Book 1)
Lady Cecily Francis is resigned to become the wife of Lord Drury, the man she suspects her sister is pining for. But upon her first scandalous encounter with the exotic Earl of Augustine-the American whom everyone is whispering about- Cecily is intrigued by the possibility of a more exciting life. If only she could contrive some way to marry the unconventional earl instead....

Around town he's known as Earl Savage. Although he inherited his title legitimately-and, with it, responsibility for his three half sisters-Augustine is half American and part Iroquois. He can't wait to settle his father's estate, marry his sisters off, and return to his native soil. Until charming Lady Cecily has him considering a prolonged stay in England...
Fantastic book. I really enjoyed all parts of this story. Cecily was terrific as the heroine because she knew what she wanted and it wasn't Lord Drury. I liked the way she was looking out for her sister and that she wanted to help. The first time she met Lord Augustine did not bode well for a relationship. He is too much of something - he has a legitimate title and is preparing to present his sisters to society. But he is also half American, and part of that is Iroquois. Most of the ton is very leery of him and don't quite trust him to behave. With Cecily he finds himself pushing that envelope, even though he has no intention to marry - he just wants to get back to America as soon as he can. Cecily went to him with a proposition that would help her sister and his, and they soon found themselves engaged. I loved the way that his heritage didn't bother her at all (which astounded him) and the way he just couldn't keep away from her. I also enjoyed the side story with Cecily's sister, and hope to see one for Lord Augustine's cousin James. I am definitely looking forward to reading Lily's story.