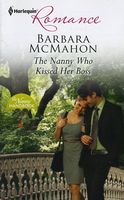 Series: Nanny Handbook (Book 2)
Savannah Williams loves being a nanny -- but her assignment for single dad Declan Murdock is her most challenging yet. Not only is his daughter unruly, but Declan is her ex, whom she's spent seven lonely years trying to forget....

After Declan's ex-wife took him for a ride, he's maintained a suave, in-control persona. He won't make the same mistake twice. Yet seeing Savannah again lights up Declan's world.


And he begins to wonder whether his real mistake was letting her go....
Good book. I liked Savannah a lot. She was great with Declan's daughter Jacey. I loved the way she was able to guide Jacey without being heavyhanded about it. I liked Declan too. He came to Savannah to be the nanny for this trip because he'd heard how good she is. He was also hoping for a second chance, after completely messing up seven years earlier. I liked the way that Savannah tried to stick to business, not letting Declan see how badly he hurt her in the past. She also didn't let their past interfere with her work with Jacy. She also used her abilities to give Declan some options to problems he had. Declan tried to be patient, letting Savannah get to know him again, but he really wanted to be with her again. I also liked the way she didn't just give in, but went on her next job. This gave Declan a chance to think and realize where he went wrong.