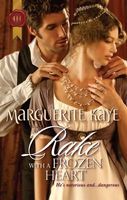 Waking up in a stranger's bed, Henrietta Markham encounters the most darkly sensual man she has ever met. The last thing she remembers is being attacked by a housebreaker -- yet being rescued by the notorious Earl of Pentland feels much more dangerous!
Since the cataclysmic failure of his marriage, ice has flowed in Rafe St. Alban's veins. But meeting impetuous, all-too-distracting governess Henrietta heats his blood to the boiling point.
When she's accused of theft, Rafe finds himself offering to clear her name. Can Henrietta's innocence bring this hardened rake to his knees?
Good book. Rafe made an incredibly tortured hero. He did a great job of rescuing Henrietta the first time, even though he didn't want to. Then he stepped up to clear her name of the charges of theft. He had a terrible habit of going back and forth between cold and kind. I really liked Henrietta. She was a bit on the naive side, but she was a good person. She could see that Rafe had his issues, but she came to see that he was a good person under that rake-like exterior. I loved the way that she said what she thought, without any thought of lying. I also respected the fact that she stood up to Rafe and declined his offer, rather than settle for less than she felt deserved. I loved the concluding scenes.