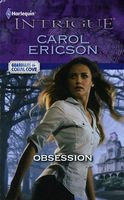 Series: Guardians of Coral Cove (Book 1)
Michelle Girard never expected three of her former classmates to wind up dead just before their high school reunion. But thanks to the sharp eye of her former crush, FBI Agent Colin Roarke, the scattered rose petals found at the scenes prove the "Reunion Killer" has struck again.
Colin, an uneasy war hero, feels a need to protect Michelle, especially when she becomes the killer's latest obsession. Staying one step ahead has always been Colin's specialty, but as his frustration intensifies, so do the very real complications of long-buried feelings. Then Michelle is kidnapped, and clues lead Colin to the foreboding Columbella House, an abandoned Victorian mansion where shrouds of fog conceal dark secrets -- and dangerous, hidden desires.
Good book. I really liked Colin. He had been kind to Michelle when they were teenagers, and when he came back to Coral Cove he was drawn to her again. When the murders began happening, he knew there was a connection between them. As strange things and accidents began happening he vowed to keep her safe. Michelle had never been so happy to see someone in her life as she was when Colin arrived on the heels of her friend's murder. As the days went on, they worked together to figure out who the murderer was. Besides his growing feelings for Michelle, Colin's need to protect was a result of things that happened during his military service. I liked the way that Michelle was able to help him with those feelings. I'm looking forward to the next story in the series.