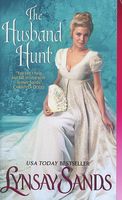 Series: Madison Sisters (Book 3)
Let the hunt begin ...

Lisa Madison wants a husband, and she has just the candidate in mind: Robert Langley. Trouble is, the infuriating man insists on seeing her as the impish girl she once was -- even as every other gentleman in London has taken notice of her womanly . . . charms. When her beauty lands her in danger, it's Robert who comes to the rescue, only to announce his affections are not of the romantic kind!


Robert saw enough sorrow in his parents' union to know he wants nothing to do with marriage, which is exactly what he'll be trapped into if he acts on his desire for the irksome siren. And then Lisa does what Robert least expects: gives up on him! As feigned indifference gives way, blistering passion burns at last. But just before the pair can succumb to hard-won bliss, an enemy with unfinished business lurks, threatening to destroy them both.
Loved this book. Lisa has been in love with Robert for years, but can't get him to see her as a woman, not the child he remembers. When he tells her he doesn't feel that way about her, she gives up and starts looking elsewhere, even though she still loves him. I loved watching him as he tried to convince himself that he saw her as a sister. His issues with marriage have him planning to not marry for many years yet. However, he finds him in the position of having to guard her, which causes him to realize that he wants her but doesn't want to risk the family curse. He also realizes that he doesn't want anyone else to have her. When his actions make Lisa realize that he does care, she takes things into her own hands to try to get him to admit it. I loved the interaction between the two, and watching Robert fight the inevitable. The final rescues are great. I loved the humor in some of the situations.