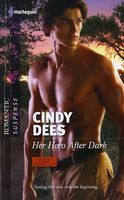 Series: HOT Watch (Book 8)
Senior H.O.T. Watch controller Jennifer Blackfoot can't wrap her head around Jeff Winston's words of warning. Ever since picking up the sexy wildman during a prisoner exchange, her life has irrevocably changed. There's no way one of the best government surveillance operations in the world is compromised. But there's truth in Jeff's smoldering eyes….
So Jennifer becomes a fugitive with Tarzan. Only now he's morphed into a clean-shaven, godlike man with superstrength. For a woman who never believed in soul mates or destiny, Jennifer wonders if she can put the brakes on the simmering sexual chemistry and work with Jeff to protect H.O.T. Watch. Can she accept everything about him—even secrets he's not willing to share?
Very good book. Jennifer wasn't sure what was going on with the guy she rescued. She first had to deal with his medical issues, then his assertion that HOT Watch had been compromised. She didn't want to believe it, but the evidence was clear. Jeff couldn't believe his instant attraction to Jennifer. He had to try to ignore it in order to deal with the security threat and convince Jennifer that she couldn't do it without him. He also had to decide if he could share all his secrets with her. I really liked his confidence that he could handle anything that they came up against, and also that he had no problem with Jennifer taking over when she was the one with the better options. Jennifer had some trust issues to deal with, and was reluctant to believe Jeff at first, but was able to make the jump when needed. I'm sad to see the end of the HOT Watch series, but I'm looking forward to seeing what comes next.