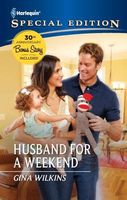 When it comes to marriage, Tate Price is all business. Sure, he'll play along with the charade for a few days, especially for a friend like Kim Banks. How can he say no to her girl-next-door beauty and those attractive whiskey-colored eyes? After all, it's only for a weekend.

But what started out as a lark has taken a turn into uncharted territory for Tate. Suddenly this mock marriage to help single-mom Kim get her own mother off her back is starting to feel very right...for both of them. It might just be that this rugged confirmed bachelor is a real family man after all!
Fun book. Tate volunteered to play husband for single mother Kim when she went home for a family reunion. He is a confirmed bachelor who is scared to death of kids. Kim has no intention of ever marrying, since most of her exposure to marriage has been through her family who can't hold on to a relationship. She is very independent and plans to raise her daughter without being dependent on anyone. When they get to this family reunion, things start to get a little odd for Tate. He finds himself enjoying the idea of keeping Kim in his life. The baby still scares him, but he's getting better with that too. Kim starts looking at him differently also, but doesn't want to mess up their friendship. I loved the way that Tate is there for Kim. He does a fantastic job of deflecting her family members' cutting little remarks. When they get back to Little Rock, he wants to keep seeing her, but gives her some time. When she gets sick he steps in to take care of her and the baby. I loved seeing him cope with the demands without too much trouble. I also liked seeing Kim as she started to believe that she could have her own happy ending.