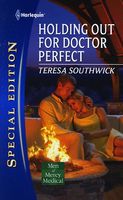 Series: Men of Mercy Medical (Book 8)
No-nonsense Avery O'Neill was as by-the-numbers about her love life as she was about the hospital budget she managed. So she vowed to ignore any electricity that sparked between her and hotshot surgeon Spencer Stone -- even if sparks buckled her knees at every turn.

Until the business trip that changed everything.


Dr. Stone had his eye on the prize -- a state-of-the-art medical system that could save patients' lives. But he couldn't stop thinking about the controller whose cool demeanor hid a life-defining secret. After insatiable passion swept them into an unexpected predicament, could Mercy General's most eligible bachelor convince Avery that his feelings were real...no matter what surprises awaited them?
Very good book. I liked Spencer from the beginning. He was extra charming, but he didn't use it in a mean way. He was also very focused on getting the medical equipment he wanted. Avery wasn't convinced it was needed, and also didn't trust the man who was known for not committing to anyone. One thing they had in common was a mutual attraction. While on a business trip together, they gave in to that attraction. Shortly after that, Avery discovered that she was pregnant. Thanks to her past, she had no expectation that he would stick around and was stunned when he didn't desert her. Spencer also had issues of his own, not the least of which was a bad romantic experience in his past that made him reluctant to trust his heart. I loved the way everything worked out. I hope to see a story for Spencer's brother Adam soon.