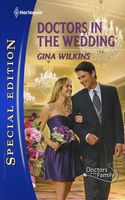 Series: Doctors in the Family (Book 3)
DIAGNOSIS: LOVESICK!

Out-of-town bridesmaid Madison Baker was looking forward to a fun wedding of one of her oldest friends. She never thought she'd meet a groomsman that made even her measured mind-of-a-psychiatrist spin.


Of course, he was the one guy who was off-limits.


Steadfast Dr. Jason D'Alessandro was wedded to his work and his patients. Why, even the bride's beautiful sister couldn't turn his head! Still, stunning Madison stirred his impulsive, romantic side, although she insisted that their hot-and-heavy romance remain top secret.


But this was one forbidden weekend fling that might just be for keeps....
Fun book. I loved the way that Madison and Jason met and connected. I loved picturing Jason as Indiana Jones, even though his reputation was completely opposite. I thought Madison made a terrific bridesmaid, even sneaking around to make sure her time with Jason didn't turn the bride into a bridezilla. Bibi bothered me a bit with her heavyhanded pushing, but the stress was obviously messing with her mind. I did like the way that neither Jason nor Madison wanted to give up spending time together after the wedding. I loved the way Jason showed up in Little Rock to spend time with her. I thought the way he was so supportive of her was fantastic, and the way he jumped in to come to her so they could be together was terrific.