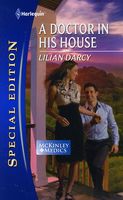 Series: McKinley Medics (Book 2)
Burned-out doctor Scarlett McKinley needed a hero…and sexy cop Daniel Porter fit the bill. The problem was, when she'd met him six years ago while rebounding from a divorce, their five-alarm affair hadn't been enough to keep them together. But now that a serious ordeal put her in close quarters with the man who still sent her pulse racing, it was time to find out if the second time's the charm.
Sworn to protect and serve, Daniel knew his connection to Scarlett went deeper than that. He'd let their different social circles take her from his arms once, but he wouldn't let it happen again. Because now he was determined to heal her with love that will last a lifetime!
Good book. Scarlett had come to Vermont to regain some balance in her life after working so much that the stress was impacting her health. She did not expect to be reunited with Daniel. Their short affair earlier had not ended well. Both of them had been very into each other physically, but kept themselves closed off emotionally. Scarlett had been recovering from her divorce, and Daniel had never felt that he was good enough for her. Now they were together again. The physical was just as intense, and they were still fighting the same emotional battles. This time, though, Scarlett had no intention of letting it separate them. I liked the way she was finally able to tell her dad to get off her back - he was definitely not expecting it. And I liked the way that her mom took Scarlett's side. Daniel kept trying to keep Scarlett from getting too close, but this time she wasn't putting up with it. It was a slow process, but I could see that he was starting to come around, until Scarlett's ex-husband tried to get her back. I liked Daniel's defense of her, but didn't like the hit to his self-confidence. The conclusion was terrific. I'm looking forward to the final book in the set.