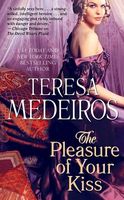 Some pleasures are worth any price...
Legendary adventurer Ashton Burke has roamed the globe for ten years trying to forget the spirited woman he left behind in England. His devil-may-care pursuits are interrupted, though, when he reluctantly agrees to retrieve his brother's kidnapped fiancée. Too late, he discovers his quarry is none other than Clarinda Cardew, the very same girl who made off with his jaded heart.
The last thing Clarinda wants is to be trapped in a palace of sensual delights with the man whose irresistible kisses still haunt her sleepless nights. She quickly realizes that allowing Ashton to rescue her may put her yearning heart in even greater peril. In a journey both tantalizing and treacherous, Ashton and Clarinda resume the impetuous steps of their dangerous dance only to discover the most seductive pleasure of all may be love itself.
Good book. It was interesting reading a book from that time period that didn't take place in London. Ash wasn't very happy to be stuck going to rescue Clarinda. He had left her behind, but had never forgotten her. When he arrived at the palace where she was being held, he was able to gain entrance, but was not able to see her alone to manage the rescue. Clarinda was sure he had come to rescue her, but had to maintain the facade that she was there willingly until they could escape. She still wasn't sure if he still had any feelings for her, but she knew she had never stopped loving him, even when she hated him for leaving. There was a lot of intrigue, and a couple of very interesting surprises. Overall, a satisfying read.