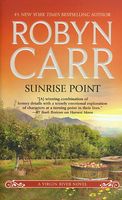 Series: Virgin River (Book 19)
Former Marine Tom Cavanaugh has come home to Virgin River, ready to take over his family's apple orchard and settle down. He knows just what the perfect woman will be like: sweet, decent, maybe a little naive. The marrying kind. Nothing like Nora Crane. So why can't he keep his eyes off the striking single mother?
Nora may not have finished college, but she graduated with honors from the school of hard knocks. She's been through tough times and she'll do whatever it takes to support her family, including helping with harvest time at the Cavanaughs' orchard. She's always kept a single-minded focus on staying afloat…but suddenly her thoughts keep drifting back to rugged, opinionated Tom Cavanaugh.
Both Nora and Tom have their own ideas of what family means. But they're about to prove each other completely wrong.…
Another satisfying trip to Virgin River. I liked both Tom and Nora. Nora has been one of my favorites from the time she showed up in Virgin River. I liked the way she was determined to give her girls the best life she could. She had no problem working hard to get what she needed, and wasn't the type to be happy taking charity. She was, perhaps, a little too independent at times, refusing to take any kind of help. Tom was a great guy too. I liked the fact that he realized how much he missed home and came back to take over running the orchard. It was very obvious that he was happy doing the work. He also decided it was time to start looking for a wife and had very definite ideas of what he was looking for. When Nora started working at the orchard, he didn't think she would be able to do the work. The more he saw of her, the more he was impressed, but he still didn't think she was what he was looking for in a wife, even though he found himself attracted to her more and more. I wanted to hit him with a 2 x 4 when he started looking at Darla - ugh! I found the way that he took to the kids just wonderful - and perfectly logical in the way that it was a slow process. I also liked the way that Nora was able to reconnect with her father - also a slow process. It was obvious that he cared a lot, but also that he admitted to his faults from the past. I loved seeing other characters, and seeing bits of what was happening with them too.