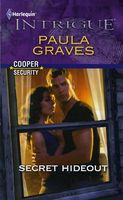 Series: Cooper Security (Book 2)
They came after former FBI agent Isabel Cooper in her hotel room. Drugged and fighting for her life, she ran right into the arms of a dead man. But Ben Scanlon was very much alive, and now her life was in his hands, too.

His face was rougher and his hair longer than when they'd last met, but he still carried himself like a born Texan. Undercover with the same redneck mafia that was after her, Scanlon thought he could save Isabel without revisiting their past together. But when every step led to a trap, and every touch they shared had a consequence, he wasn't going to waste a second chance -- or another bullet.
Very good book - kept me turning the pages past my bedtime. Isabel was stunned when she found out Ben was still alive. She had been devastated by his apparent death and had left the FBI soon afterward. Ben had gone along with the deception in order to go undercover. When Isabel discovered what he was doing she decided to stick around and help - and also spend more time with the man she loved. Ben wanted nothing more than to get her away from there to protect her. He rapidly found his resistance to her failing, as she did her best to convince him that his past and his mission still left room for them. There wasn't alot in this one that seemed to lead to solving the overall mystery, but steps have been taken in that direction.