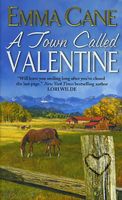 Series: Valentine Valley (Book 1)
Welcome to Valentine Valley -- where broken hearts come home to mend, and true love may lie just across the range . . .

Emily Murphy never thought she'd return to her mom's rustic hometown in the Colorado Mountains. But after her marriage in San Francisco falls apart, leaving her penniless and heartsick, she returns to her old family home to find a new direction for her life. On her first night back, though, a steamy encounter with handsome rancher Nate Thalberg is not the fresh start she had in mind . . .


Nate has good reason not to trust the determined beauty who just waltzed into town -- he's no stranger to betrayal. Besides, she's only there to sell her family's old property and move back out. But as Nate and Emily begin working side-by-side to restore her time-worn building and old family secrets change Emily's perception of herself, both are about to learn how difficult it is to hide from love in a place known far and wide for romance, family ties, and happily-ever-afters: a town called Valentine.
Good book. I loved the small town atmosphere and all the quirky characters. I really liked Emily and the way she was taking control of her life. She planned to take a couple weeks and get her building ready to sell. She wasn't expecting it to be in as bad a shape as it was, and realized it was going to take longer than she thought. Nate is a really nice guy (sexy too) who is involved in many things around town. He offers to help Emily as she fixes up her place. It also gives them a chance to explore their attraction to each other. There were times when I just wanted to shake both of them. Emily was so darned scared of depending on someone, or being impulsive like her mother, that she couldn't relax and look at the big picture of being in Valentine Valley. Nate tried to keep an emotional distance while still trying to help, because several years before someone had gotten too dependent on him. He also had involved himself in so many things that he really had no real life of his own, just the things he felt he was responsible for. I really liked seeing Emily as she became part of the town and made some good friends. I hope some of these characters will star in future books.