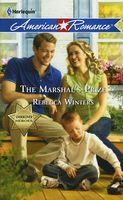 Series: Undercover Heroes (Book 2)
Abandoned as a baby, federal marshal Mitchell Garrett doesn't know his family history, or even his given name. But he's made an impressive identity for himself: hero, protector, Marine, and most recently, private investigator. Which is how he falls into Heidi Norris's life. Someone's been stealing secrets from Heidi's family-owned doughnut dynasty, SweetSpuds, and she suspects it's a relative.

Before Mitch returns to the Marshals Service, he'll take this one last case. Besides, going undercover will get Mitch closer to Heidi and her lovable son, Zack. Temporarily, that is. Mitch is ready to reclaim his life, and that means finding his real family...in Florida. Only for this P.I., what he really wants is in the last place he expects.
I really liked this book. Mitch is a fantastic hero. I loved the way that he was able to set up what was needed to do the investigation. He also was immediately drawn to Heidi, which was something that he had never experienced before. I also loved the way he was able to bond with Zack right away. His background, having not grown up with parents of his own, made him able to relate to Zack in a way no one else had been able to. He was torn about what to do, since he wanted to be able to look for his parents, but he also didn't want to leave Salt Lake City and Heidi and Zack. Heidi was also immediately attracted to Mitch, something that hadn't happened since her divorce. She was amazed at how quickly Zack took to Mitch, and worried about what would happen when Mitch went back to Florida. She enjoyed being with him both on a personal level and when they were working on the case. I loved the way things worked out in the end.