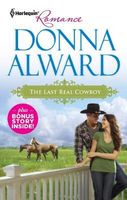 Series: Cadence Creek Cowboys (Book 1)
From the moment he turned up late to her charity's meeting, placating everyone with a tip of his Stetson and a lazy smile, Angela Beck knew that Sam Diamond was going to be Trouble with a capital T.

Angela is the prickliest woman Sam's ever met -- let alone had to work with! He'd love to still her sharp tongue with a kiss, but first he has to get close enough to awaken the complex woman beneath the deliberately cool exterior. And that's something only a real cowboy can do....
Good book. Angela was determined to make Butterfly House a success. The home for abused women is very important and very personal for her. When Sam takes over for his mother on the board they immediately rub each other the wrong way. Angela confronts Sam about his attitude, and he sees her point. As he helps her get Butterfly House ready to open, they become closer. But she still has issues with trusting any man, and is reluctant to get involved. Sam has been having his own issues with his father and the ranch, but thanks to Angela, begins to get a handle on those. I liked the way that Sam ended up being there for Angela when she needed him.