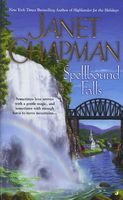 Series: Spellbound Falls (Book 1)
New York Times bestselling author Janet Chapman takes us to charming Spellbound Falls, where strange things have started happening ever since Maximilian Oceanus came to town…

Maximilian Oceanus arrives in Spellbound Falls just in time to save Olivia Baldwin from an overly aggressive suitor, only to find himself attracted to the beautiful, if rather aloof, widow. And although Mac has come to Inglenook to get a handle on fatherhood, his newly discovered six-year-old son has set his sights on finding his father a wife.


Olivia, however, is busy getting Inglenook ready for its new season, so she doesn't have time to deal with her growing attraction to the dangerously seductive Mac. Besides, weird stuff seems to happen all around him. Take the fact that her seatbelt keeps getting stuck in his presence, or locks magically open for him without keys, and that he seems to have a talent for sensing things. Never mind the three lost albatrosses walking down the road in the middle of the night. Since when are there albatrosses in Maine?


But despite Olivia's resistance to falling under the sexy man's spell, Olivia is having trouble fighting her longing. Because she knows Mac is just the man to unlock the powerful passion deep within her….
Fantastic book. I loved Mac and Henry from when they showed up in Mystical Warrior. Mac was so very lost in his role as a father, I couldn't help but feel sorry for him. Henry is adorable in his seriousness, and I loved seeing him begin to relax and become more like a kid in this book. Olivia is a terrific character, and I love her independence. She does have issues with standing up for herself, and I enjoyed seeing the effect that Mac had on her self-confidence. Olivia is trying to get the camp ready for a new season of campers, plus dealing with unwanted suitors and a mother-in-law who is a pain in the butt. When Mac comes early for some intense individual fatherhood coaching, he finds himself offering to help. He is immediately attracted to Olivia, and must find a way to convince her of his love and break it to her who and what he is. Olivia has been doing a great job of teaching Mac to be a dad and Henry how to be a kid. She also finds herself dealing with Mac's sister and near the end with Mac's parents. She also realizes that strange things have been happening since Mac's arrival, and must figure out what it is and if she can handle it. I thought the culminating scenes were terrific, and loved the way that Olivia stands up to Mac and also the rest of the people at Inglenook. Janet Chapman's trademark humor with the interaction between alpha male and the woman he loves is definitely present and had me frequently laughing out loud.