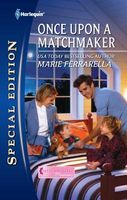 Series: Matchmaking Mamas (Book 8)
THREE MEN...AND THE PERFECT LADY?
If there was one thing single dad Micah Muldare lacked, it was time! The busy widower didn't have enough hours in the day for his too-full to-do list-his high-profile job demanded focus, and the rest of his not-so-spare time was devoted to caring for his two little boys. He certainly had no room in his hectic schedule for romance...until Tracy Ryan walked through his door.
The once-burned attorney had long ago given up on finding true love and a family of her own. She'd grown used to keeping her heart under guard. But resisting handsome Micah-and his adorable children-was proving difficult indeed! Maybe it was time Tracy reconsidered her no-nonsense approach to life and took the ultimate risk to win the family she'd always wanted!
Good book. I really liked Micah. He had devoted his life to his sons and his work, because he didn't want to go through the devastating pain that he had gone through when he lost his wife. When he needed a lawyer, he was given Tracy's name by a friend of his aunt's. He didn't expect to be attracted to her. Tracy had given up on the idea of a family of her own and now spent all her time working. She hadn't had any trouble resisting the urge until she met Micah and his boys. I loved Micah's devotion to his family, and his boys were simply adorable. I liked the way he was so straight with Tracy about his legal problems and what it meant to him. I loved the way that Tracy bonded with Micah's sons so quickly, and how well she fit into his life. I also thought that the way she worked at proving Micah innocent of the charges was great. And, as always, I love seeing people from previous books show up in later stories.