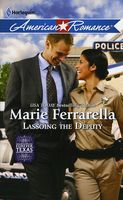 Series: Forever TX (Book 4)
Ten years ago Cash Taylor said goodbye to his close-knit hometown and hello to the fast track of big-city success. Now a criminal lawyer with a guilty heart and a lot of soul-searching to do, he's back in Forever, Texas, for his grandfather's wedding. Taking a walk down the aisle himself is the last thing on his mind. That is, until he sees Alma Rodriguez, the woman he was crazy about but left behind.
As a deputy, Alma knows how to keep her emotions in check. It's not easy, especially when Cash looks into her eyes. He hurt her once, yet she can't resist having him in her life again. Alma sees he's troubled, and she wants to help—if she can keep love out of the equation. But it just might be the answer they both need!
Excellent book. I really liked the story, despite its rather dark beginning. Cash's reappearance in Forever for his grandfather's wedding has brought back a lot of memories for Alma. When he left town he broke her heart. At first, she wants nothing to do with him. Then she sees that he is suffering, and realizes that her heart has never stopped loving him. She wants to help him with whatever is bothering him. Cash also realizes that Alma is just what he needs, but can't see saddling her with the darkness that has taken him over. I really liked seeing the way she worked to keep him involved, all the while hoping that it would be enough to help hi,. I really liked the way she was able to reach him at the end.