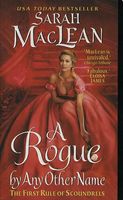 Series: Rules of Scoundrels (Book 1)
What a scoundrel wants, a scoundrel gets. . .

A decade ago, the Marquess of Bourne was cast from society with nothing but his title. Now a partner in London's most exclusive gaming hell, the cold, ruthless Bourne will do whatever it takes to regain his inheritance -- including marrying perfect, proper Lady Penelope Marbury.


A broken engagement and years of disappointing courtships have left Penelope with little interest in a quiet, comfortable marriage, and a longing for something more. How lucky that her new husband has access to an unexplored world of pleasures.


Bourne may be a prince of London's illicit underworld, but he vows to keep Penelope untouched by its wickedness -- a challenge indeed as the lady discovers her own desires, and her willingness to wager anything for them . . . .even her heart.
Very good book. Bourne was so intent on his revenge that he would do anything - even marry - to achieve it. Penelope had known Bourne all her life and was devastated when he disappeared. When he returned, and compromised her so she would have to marry her, she was sure that her old friend was buried beneath that cold surface somewhere. At first, he was determined to keep her at a distance, planning to cast her off as soon as he achieved his goal. But he soon found that he wanted to keep her, but didn't want to give up his goal. I loved the way that Penelope would stand up to him, doing what she felt she had to do. I loved the parts where she showed up at the club. Bourne wasn't sure what to do with her -- he wanted to protect her from himself and what he saw as his drawbacks, but she made him want to be better. The final scene at the card table was fantastic, and I was so happy to see Bourne's actions there. I loved the teaser for the next book and can't wait to read it.