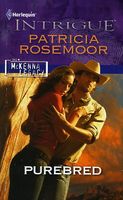 Series: McKenna Legacy (Book 13)
Horse trainer Aidan McKenna had the sight, the ability to glimpse into the future. He also had a family curse that threatened the life of any woman he loved. So when the dreams began -- searing, erotic dreams starring his new partner, Cat Clarke -- he resisted his fierce desire with all his strength. Because Aidan knew the dangers of ever falling in love again.

Aidan and the beautiful horse breeder had staked everything on their racing venture. But when Cat's missing stable manager turned up dead, it became clear they had more to lose than races. If he couldn't stop himself from loving her, Aidan knew he had to find a way to defeat destiny to save the woman of his dreams.
Good book. I loved Aidan as a hero -- nothing like a hot Irishman! When he brought his horse to America to enter it into the American races, he found himself immediately attracted to Cat. He was wary of getting involved with another woman because of the family curse that causes the women McKennas love to die. Cat was also attracted to Aidan, but had a lot of other things going on. When Aidan started having dreams/visions of something happening to Cat, he didn't know how to convince her she was in danger. Cat didn't believe in the psychic warnings, but she also knew that there was something going on at her farm. I loved the way Aidan was trying to protect her and be there for her. I also loved his connection to the animals. Cat's skepticism was understandable, but I was glad to see that she came to believe and was willing to fight for their love.