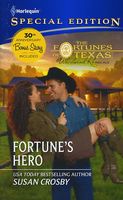 Series: Fortunes of Texas: Whirlwind Romance (Book 4)
It had been months since an unidentified rugged cowboy had saved Victoria Fortune from the rubble of the tornado -- and she'd been haunted by his image ever since.

Garrett Stone knew her name, all right. Everyone in Red Rock knew the Fortunes. And now the pampered princess had shown up on his doorstep! The taciturn rancher braced himself for trouble. Victoria was too young, too spoiled -- and way too tempting. She saw Garrett as some kind of hero. But he was just a man. A man with a shadowed past who didn't deserve the glow he saw in her eyes...
Very good book. I liked both Garrett and Victoria. Victoria went back to Red Rock after having nightmares about the tornado for months. She thought she needed to reconnect with Garrett and have a chance to say thank you. When she got to his ranch, she discovered that she wanted more than to say thank you and leave. She liked the work he was doing with animals and kept coming back to help. Garrett didn't expect Victoria to stick around. He saw her as a spoiled rich kid who be able to handle the work. And because of things in his past, he knew he wasn't good enough for her anyway. Their attraction was too strong to resist, and Victoria found that she also really enjoyed her time in Red Rock and on Garrett's ranch. All she had to do was convince him...