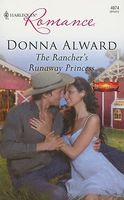 Series: Western Weddings
By royal decree -- she'll exchange her tiara for a rancher's ring!

Brooding ranch owner Brody Hamilton keeps his heart out of reach. But there's something about vivacious stable manager Lucy that brings joy to his hardened soul.


Lucy Farnsworth has just discovered she's of royal blood. She should be glad, but it has blown her world apart, and she finds herself just wanting to be the old Lucy again. At Prairie Rose Ranch, Lucy's found the man who makes her feel she belongs. Only, she hasn't told him she's a princess....
Very good book. Lucy arrived at Prairie Rose Ranch to work out a deal with Brody for the king of Marazur. As far as Brody knew, she is simply the king's stable manager. Brody was drawn to her, but had had a bad experience with a woman and kept comparing Lucy to her. This caused him to be nice one minute, then cold the next. Meanwhile, Lucy was happy being on the ranch, around the horses and getting to know Brody. She had a chance to be the old Lucy, before she found out that she was a princess. When she and Brody grew closer, and he told her things about himself that he normally didn't share, she began to feel guilty about hiding her identity. She was afraid to tell him for fear of losing their friendship and budding relationship. When he did find out, the blow-up was painful and made me cry in several places.. The ending was very satisfying.