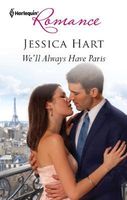 I've done it! Thanks to my awesome powers of persuasion, elusive-but-dreamy TV star Simon Valentine is starring in our new romance documentary!

It wasn't easy, though -- Simon thinks his status as prime-time financial guru turned celebrity is ridiculous! He says he now steers well clear of affairs of the heart, but surely he must have one romantic bone left in his body?


Much as I'd like to find out firsthand, I've sworn off men after a disastrous ending with my last boyfriend. Must remain professional -- though it won't be easy...we're filming in the most romantic city of all....
Good book. Simon reminded me of Spock - cool, logical, unflappable. He doesn't believe in love or romance, and feels that relationships should be based on common interests. Clara is just the opposite. She believes in romance and love and that it can make anything better. During the filming of the documentary, Simon's role is to present the case against romance and Clara the case for romance. During the various filmings and even off camera, Clara spends her time looking at the positives and singing and dancing her way through the days. At first, Simon is beyond irritated by it all, but he soon finds himself amused by her antics. From there he finds himself in the surprising position of having fallen in love with Clara - the total opposite of what he thought he wanted. Meanwhile, Clara has fallen for him, but know that she is nothing like what he wants. I loved the conclusion and how Simon convinced Clara of his love.