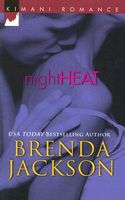 Series: Steele Family (Book 2)
Sebastian Steele was the kind of man women dreamed about.

He was drop-dead gorgeous, wickedly charming and fabulously wealthy. So why wouldn't Jocelyn Mason accept his offer to help run her struggling company? It was his reputation. Sebastian was a corporate shark, and Jocelyn knew the big fish didn't swim with the little fish, they swallowed them whole.


It had been Sebastian's intention to take over Mason Builders, whether Jocelyn liked it or not. But when he started to work with her, sparks began to fly and they shared a sizzling, unforgettable night of passion. And soon it wasn't clear who was bossing whom....
Good book. I liked Sebastian. He came to Newton Grove to honor the last wish of the man who had been his mentor, to help out at Mason Builder and make sure things were running smoothly. Jocelyn was not happy to have him there, as she saw no need for his input. I did like the way he helped without trying to take charge of everything. One thing they did have in common was a mutual attraction. When they finally gave in, it started as an affair with a known end date. Their feelings began to change, though neither one would admit it to the other, until the end. Sebastian hadn't been expecting it, and wasn't sure at first that he wanted it. Jocelyn had closed herself off to love because she felt that love equaled loss. I liked the way they got together at the end. I also liked the side story with Leah and Reece, and was very impressed with the way that Reece was taking care of Leah.