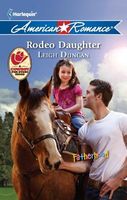 Series: Fatherhood
Former rodeo star Amanda Markette is prepared to deal with anything her new job as a family law attorney can dish up. Until she learns her childhood sweetheart, Mitch Goodwin, is her client's ex-husband and opposing counsel.
Mitch wants nothing more than to win full custody of the daughter he's been raising on his own for the past four years. Until Amanda rides back into his life…
Amanda and Mitch know they shouldn't give in to the connection that still sparks between them after fifteen years, but can they resist? And will Mitch ever forgive her once he learns the secret she's been keeping—a secret that could change his life forever?
Very good book, and very emotional. Amanda took the job with Mitch's ex-wife not knowing that's who she was. She had a hard time believing that Mitch was the person that Karen described, but her job was to watch out for the welfare of the child. Mitch was stunned and furious when Amanda's efforts gave Karen visitation, then an accident gone wrong gave Karen temporary full custody, with supervised visitation for Mitch. Amanda ended up being the one to do the supervising. During these visitations, Amanda and Mitch got to know each other and came to care for each other. But because of their roles, they couldn't do anything about it. I really didn't like Karen at the beginning. She was a selfish person, only out to get what she could from Mitch, but she changed for the better thanks to Amanda's and Mitch's influence. Mitch had to learn to create more balance in his life to give his daughter what she needed. Amanda needed to realize that not everyone was as self-centered as her father, and judge people on their own merits. I was happy to see the way things worked out at the end, but it was a close thing.