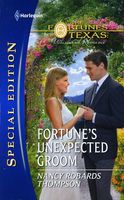 Series: Fortunes of Texas: Whirlwind Romance (Book 5)
GREAT EXPECTATIONS
Jordana Fortune never expected to be single at twenty-nine. She never expected to lose her virginity in the midst of a tornado. And she most certainly never expected to be expecting. But her impulsive encounter with gorgeous pilot Tanner Redmond left Jordana in a family way. How much longer could she keep her condition under wraps?
Nothing stays secret in Red Rock for long. When Tanner learns the truth, he runs straight to Jordana's door, demanding matrimony. No child of his would grow up without a father! He offers wealth and protection, and a name for the baby. Yet his blushing bride is hesitating -- holding out for the one thing Tanner believes he can't give....
Very good book. In previous books, we've seen Jordana as she copes with the unexpected pregnancy. She also has been putting off telling Tanner. When he found out and showed up in Atlanta to see her, she had no choice. She wasn't expecting him to want to marry her just to give his name to the baby. She had always had a picture in her mind of what she wanted and this wasn't it. But after a few days with him, she decided to give it a chance and hope that love would come later. I was glad to see her give up on the idea that everything had to be perfect. Tanner couldn't believe that Jordana hadn't told him about the baby. He was also going to make sure that he was involved in the baby's life from the beginning. He did find himself very intent on making sure that Jordana was happy with all the decisions. I loved the fact that he didn't allow her parents to railroad them into the wedding that her mom was trying to plan, but let Jordana make the decisions. His biggest problem was that he had no experience with love, and was scared to make himself vulnerable to those feelings. I loved the ending, and seeing them as they opened themselves up to all the possibilities.