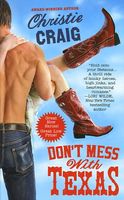 Series: Hotter in Texas (Book 1)
HOTTER IN TEXAS
Nikki Hunt thought her night couldn't get worse when her no-good, cheating ex ditched her at dinner, sticking her with the bill. Then she found his body stuffed in the trunk of her car and lost her two-hundred-dollar meal all over his three-thousand-dollar suit. Now not only is Nikki nearly broke, she's a murder suspect.
Former cop turned PI, Dallas O'Connor knows what it's like to be unjustly accused. But one look at the sexy -- though skittish -- suspect tells him she couldn't hurt anyone. The lead detective, Dallas's own brother, has the wrong woman and Dallas hopes a little late-night "undercover" work will help him prove it....
Very fun book. I really liked both Nikki and Dallas, though each had their relationship issues. The mystery of who killed her ex was delightfully complicated. I really enjoyed seeing how Dallas and his partners went about their investigations of both Nikki's case and that of the teenager. Their methods were a bit unorthodox at times, but very effective. There were a couple times when I thought I knew who did it, but then I wasn't sure. As far as the romance went, there were definitely a fair number of bumps in the road. Dallas had been burned by his ex-wife's attitude and refused to think about anything permanent. Nikki's ex had done a number on her self-esteem, and she also had issues of abandonment from her parents, so she didn't trust that any relationship would last. There were a bunch of really funny predicaments that both of them got caught in, both together and apart. I also enjoyed seeing the interactions of Dallas's brother Tony and his wife as they tried to repair their marriage. I'm really looking forward to the next book.