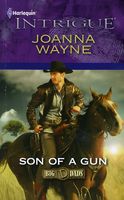 Series: Big D Dads (Book 1)
Amid a freak snowstorm, Texas rancher Damien Lambert made the unlikeliest find on his Bent Pine Ranch -- a bloodied woman and her infant daughter in hiding. Though her story was transparent as ice, the heat he saw in her eyes made him offer her refuge.
After a ruthless kidnapping and a harrowing escape, Emma Muran needed a hero...and the baby needed a home. She'd found both in Damien -- the perfect man with a cowboy's swagger and a lover's touch -- until he learned about the incredible danger they faced. After that, Emma knew it would take all the cowboy Damien had to keep her and the child alive.
Very good book. I thought Emma was very resourceful in getting away from her kidnapper and rescuing the baby along the way. Her rescue by Damien was just what she needed, though she didn't want to draw him into her problems, and intended to leave the next day. When she finally trusted him enough to tell him the whole story Damien went into full protector mode. He had known she was lying with the first story, but still felt that she needed his help. I liked the way that they worked together to get Caudillo. I also liked the fact that they didn't act on their attraction until the problem was solved. I loved Damien's family and the way that they cared for each other. I'm looking forward to stories for the other two brothers.